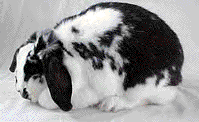 Grand Champion Love A Little Fancy
Welcome to the home of B & R Rabbitry. We raise top quality Mini Lops from champion blood lines. We are a small rabbitry located in Central Indiana. We hope that you will enjoy your visit to our site, and invite you to come back often.
Unfortunately we have not been able to attend many shows this season, but hope to be back into it this fall.
Last Updated: 7/6/2002